Q2 USADA Whereabouts Due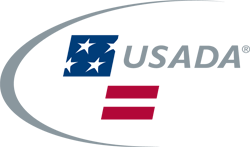 An important part of USADA's testing program is the ability to test athletes without any advance notice in an out-of-competition setting. Athletes are subject to testing 365 days a year and do not have "off-seasons" or cutoff periods in which testing does not occur. Whereabouts information, (dates, times, locations, etc.) is information submitted to USADA by an athlete that allows the athlete to be located for out-of-competition testing.
When must Whereabouts Information be submitted to USADA?
There are two types of whereabouts information that need to be submitted. One, is regularly scheduled whereabouts filings, filled out online, that are due the last day of each quarter in preparation for the next. As a result, there are four deadlines for whereabouts filings:
Quarter 1 – December 31
Quarter 2 – March 31
Quarter 3 – June 30
Quarter 4 – September 30
Additionally, athletes must submit whereabouts filing information whenever regularly scheduled plans change
How does an athlete provide whereabouts updates to USADA?
Athletes can submit whereabouts changes to USADA through a number of methods:
Athlete Express App: